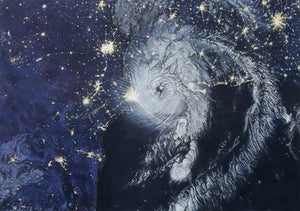 Stunning signed and matted limited edition print by Quincy-based artist Jennifer Bock-Nelson that measures 22" x 28". The print measures 14" x 21".
From the Finding Space Series: 
"Within the cosmos, my presence is negligible. Yet, there is something human about the need to reiterate one's existence. Documents of who we are and where we are abound. Information and visual stimuli flood our days and overwhelm our senses. Technology provides a platform for storing images we feel compelled to capture but rarely revisit. The world spins and is subject to time and its inhabitants. In the narrow realm that is now, my work both utilizes and reacts to the inundation of technology as I gaze upon, record, and preserve invisible fragments of the changing world."


About Approaching the Gulf: 
The reference image is from NASA and depicts Hurricane Laura, a category 4 storm in August of 2020. The title, "Approaching the Gulf", refers to the location of landfall along the coastlines of Louisiana and Texas within the Gulf of Mexico. The title also
references greater gulfs such as the one humanity experienced in 2020 with Covid-19.
There is a sense of the unknown, of danger, of man-made light and infrastructure, and of the unpredictability of nature.
This piece was started during a residency in Tennessee during the spring of 2021. I wasn't sure how to start making art again after life circumstances made it difficult to create during the Covid shut down. I wanted to draw and try colored pencils. I started with a charcoal gray surface and layered color pencil. Very small portions of the white were emphasized with undiluted water-based pigment to make the lights pop.