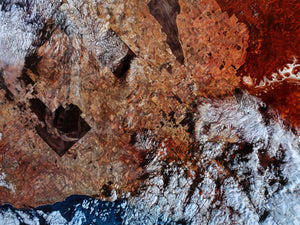 Stunning original artwork by Quincy-based artist Jennifer Bock-Nelson. This piece measures 30" x 40" and is oil on cradled basswood panel and created in 2020.
From the Finding Space Series: 
"Within the cosmos, my presence is negligible. Yet, there is something human about the need to reiterate one's existence. Documents of who we are and where we are abound. Information and visual stimuli flood our days and overwhelm our senses. Technology provides a platform for storing images we feel compelled to capture but rarely revisit. The world spins and is subject to time and its inhabitants. In the narrow realm that is now, my work both utilizes and reacts to the inundation of technology as I gaze upon, record, and preserve invisible fragments of the changing world."


About Harrowed Ground: 
The reference image was an aerial photo captured in 2019 by the Sally Ride EarthKAM satellite of South Australia (Hincks & Hambidge wilderness protection area and Lake Gilles). I chose it for the warm color, clouds, and strange shadows. As the painting progressed, I was drawn to the shapes carved into the ground by people and nature. Shortly after finishing it, fires consumed parts of Australia in 2020. I saw it in a yet a different light. I thought of a quote by David Mitchell in the book Cloud Atlas, "Time is what stops history happening at once; Time is the speed at which the past disappears."
This piece took 325+ hours to paint. The process is the same as described in the piece, "Origin & Exile". Jennifer has a process video on her Instagram @jbocknelson and FB art pages (Jennifer Bock-Nelson Art).