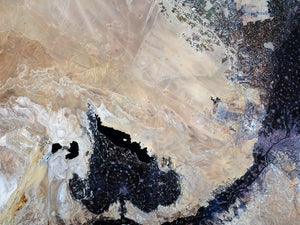 Stunning original artwork by Quincy-based artist Jennifer Bock-Nelson. This piece measures 30" x 40" and is oil on cradled basswood panel.
From the Finding Space Series: 
Within the cosmos, my presence is negligible. Yet, there is something human about the need to reiterate one's existence. Documents of who we are and where we are abound. Information and visual stimuli flood our days and overwhelm our senses. Technology provides a platform for storing images we feel compelled to capture but rarely revisit. The world spins and is subject to time and its inhabitants. In the narrow realm that is now, my work both utilizes and reacts to the inundation of technology as I gaze upon, record, and preserve invisible fragments of the changing world.


About Origin and Exile:
The reference image was an aerial photo by the Sally Ride EarthKAM satellite over Egypt, specifically the Al-Fayoum Oasis. When perusing satellite images, I look at the image and not the location. I want to record a splice of time. Knowing this was Egypt, the title is an homage to my religious upbringing and references creation mythology and the Exodus story. While this body of work is about climate change and human interaction with our environment, it also serves as a metaphor for connection and disconnection on an individual and societal level.
I believe this piece took approximately 225+ hours to paint. The panel is coated with 3 layers of clear gesso on both the front and the cradled back to seal the wood while allowing the warmth of the basswood panel to come through the painting and be visible on the cradled sides. I start with a detailed drawing to map out the image and preserve proportions. I paint inch by inch for the first layer to capture the specificity of that moment in time – each dot, tributary, and sand swirl is exact. After the first layer, I work out the color and texture in subsequent second and third layers. With each layer, I
tackle portions of the piece that need further refinement or development. I use the professional line of Gamblin products to ensure the paintings are archival and will not fade in color. I finished the painting with a Varnish for further protection.