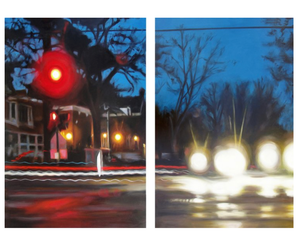 Stunning original diptych artwork by Quincy-based artist Jennifer Bock-Nelson that measures a total of 36" by 50." Each of the two panels measures 36" by 24" and is made of oil on cradled panel and was created in 2009.
"24th & Maine is one of 4 pieces left from a long running series of 32 paintings entitled Drive. The series is an exploration of landscape in motion. The paintings reside in the transitional space between the strange and the familiar. Recognizable landmarks or objects lend structure to the otherwise atmospheric depiction of warped space. The juxtaposition of the natural landscape with the artificially colored man-made structures, signs, lights, and road markers magnifies the sense of altered reality.
This piece features Madison School where my boys attended elementary school and a major intersection where I turn to go home. Glowing red on top of the darkening blue of dusk is one of my favorite visual combinations. Sometimes I display the panels with a gap and sometimes, they come together as a larger rectangle."